It is no brainer that Amsterdam Marijuana Seeds is one of the oldest cannabis seed banks on the Internet today. Today, there are specific strains that get referred to as AMS strains as they have bred them from scratch. 
So, what are the top 10 marijuana strains from the Amsterdam Marijuana Seeds Company?
Depending on the phenotype, the AMS supreme feminized strain has its potency ranging between 20 and 30%. 60% Indica and 40% Sativa, this hybrid mostly produces profoundly relaxing effects. 
2. White Widow Xtrm ® Feminized
The White Widow XTRM feminized strain is one of the most rampant parental figures across most of the cannabis strains on Amsterdam Marijuana Seeds. This includes their AMS supreme fem strain. To the greatest extent, she is the replica of the AMS supreme feminized as most of the attributes are the same. 
For instance, 60% Indica and 40% Sativa. The yields are up to 500gms per square meter indoors and up to 725gms per square meter when the cultivation happens outdoors. 
If you are a toker worth your salt, then this beauty has a power punch type of high. 20-30% THC, and a psychedelic high, you will be struggling with analysis paralysis thinking that this strain will get you couch-locked! 
3.Big Bud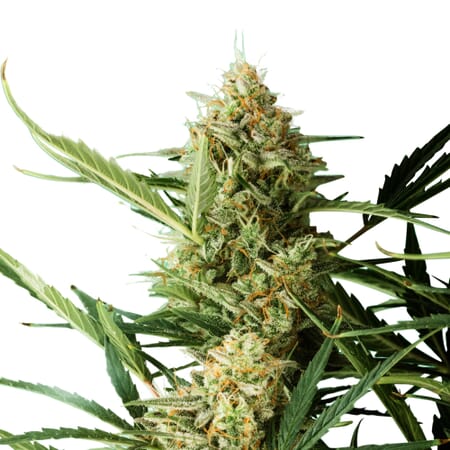 The AMS Ghost Train XTRM feminized strain is not your most heavy-yielding strain, but it has more to offer than focusing on this one-way traffic. She packs adorable Sativa hybrid dominance with it being 65% and 35% Indica, where, most of those who swear by it claim it as their ultimate day-time strain. 
The potency ratio ranges between 20 and 30%, and the indoor yields are 400 and 500gms per square meter indoors and outdoors, respectively. Packing up to 6 flavors, you can expect fruity, piny, slightly peppery, herbal, and citrus tastes after toking this O' so good beauty. 
Boost your appetite, ghost depression, ADD, and ADHD with this Amsterdam Marijuana Seeds Ghost Train Extreme feminized super beauty. 
4. M.O.A.B – Mother Of All Buds ®
The proper noun of this strain explains everything!!! The Mother of All Buds feminized gives rise to cannabis strains with massive buds and bumper yields. Here, I am talking about up to 900gms per square meter outdoors and up to 550gms per square meter indoors. 20% Indica and 80% Sativa, this is one of the tallest strains you will ever find; up to 3 meters. 
The potency doesn't disappoint, too, and ranges between 20 and 30%. 4 strains have been used to give rise to this strain. These are Blueberry 420, Chem Dawg, Hindu Kush, and Bluedream Extreme. She has a earthy and sweet flavor, with the effects being more of happiness. 
Is there a really better way to celebrate the 420 weed holiday than doping your favorite hit of the AMS 420 Carat Feminized weed? Coming into existence after breeding Chronic and White Widow, this girl is 65% Indica and 35% Sativa. 
Are you looking for a 23% THC strain that yields shockingly well? Then the Amsterdam Marijuana Seeds 420 Carat Feminized weed is the best for celebrating the 2021 420 holiday and beyond. 
She yields up to 550gms per square meter indoors and 900gms per sqm outdoors. Weed with a creamy earthy and woody flavor and scent. 
6. Northern Lights Xtrm ® Feminized
The Northern Lights Extreme feminized strain from AMS packs a punch of 20-30% THC level. One of the reviews on the AMS website says, 10 of 10 sprouted within 24 hrs by soaking in the water on my seed mat. About 9 days old and there growing very healthy and fast in 3-gallon pots with coco/potting soil" 
This strain has a moderate growing difficulty and with the right procedure, then anyone can succeed with growing her. Up to 550gms per square meter indoor yields and up to 675gms per square meter of outdoor yields, this is your weed to keep your mind boggled. Your no-ordinary 70% Indica and 30% Sativa. 
Bumper yields best explain the yielding capabilities of the Happy Haze feminized strain. This is one of the few strains that yield well over the 1000 mark, where when grown outdoors, she yields 1200gms/sqm, and in the case of those who prefer indoor cultivation, they get as much as 700gms/sqm. 
A 75% Sativa and 25% Indica, Happy Haze feminized best suits those who prefer taking weed for daytime. Depending on the phenotypes, this strain has potency levels ranging between the higher side of the 20-30% THC range. 
As the name implies, the effects are mostly happy. It is worth mentioning that while these beans may sprout fast, the duration from the seedling stage to flowering is relatively long. 
The O.G. Kush XTRM feminized strain from AMS is one of the lowest-yielding strains. The indoor yields are up to 225gms per square meter, with the outdoor yields going up to 300gms per square meter. This is an Indica hybrid with a dominance of 70% and 30% Sativa. 
The THC levels are up to 30%, with her mostly providing euphoric effects. The critical reason why I included this specific strain in this top 10 list despite the low yields is the fact that her high is extremely energizing and functions all the day round. Do away with your migraines, Social Anxiety Disorder, and mood swings all day long.
9. Girl Scout Cookies Xtrm ® Feminized 
Are you looking forward to buying a medium-THC strain? Then the AMS Matanuska Thunder Extreme strain is here with a THC range between 16-20%. The yields are also moderate with them being up to 400gms per square meter indoors, and up to 500gms per square meter outdoors. 
With chocolate scent and flavor, there is literally no better way to treat your taste buds than consuming this beautiful strain. The CBD levels in this strain are high and can provide you with anxiety relief. 
10. Cheese Auto-Fem
Seduce your taste buds with the auspicious flavor of a delicious wedding cake with this tasty strain. Besides the looks and sweetness, the AMS Wedding Cake feminized is a high-THC strain with a range of between 20 and 30%.
Her Indica to Sativa ratio is 60:40, respectively, which makes this pure golden beauty a perfect mix of either day or night time consumption. Reap up to 600gms and 800gms/sqm outdoors and outdoors, respectively and you will surely get going. 
How did I come up with this list?
There are different factors to consider before any cannabis strain makes it to this top list. For example, what is its potency level? What's the growing difficulty? How fast is its germination rate? How fast is the growth? And so on. 
FAQs about The Best 10 AMS Seeds in 2021
What is the best AMS strain, overall?
Best here is relative. Each strain is unique and it is all dependent on what you can refer to as the best in a single strain. For instance, if you ask about the heaviest-yielding Amsterdam Marijuana strain, then Happy Haze has your back. 1200gms per square meter is not in any way ordinary. 
Which strain has the fastest germination rate?
The Happy Haze feminized strain is at it again. It is one of the fastest AMS sprouting cannabis strains. However, her growth is not the fastest. 
What AMS strain is the best against molds and white powdery?
The White Widow XTRM feminized strain has proven time and again as dependable in places where cannabis nuisances are daunting.